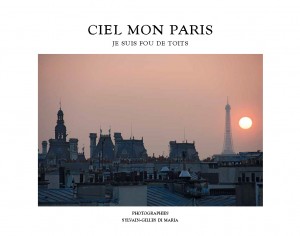 « CIEL MON PARIS JE SUIS FOU DE TOITS » (Ed° L'ile aux images).
60 photographies en couleur inédites des toits de Paris et du ciel parisien réalisées depuis une terrasse située en plein coeur du quartier du Marais par le photographe Sylvain-Gilles Di Maria.
Un historique et une liste des premiers photographes du XIX ème siècle : de Joseph Nicéphore Niepce, Félix Nadar à Eugène Atget qui ont photographié le Ciel et les toits de Paris.
Beau Livre couverture rembordée, couture fil, dos carré collé. Cet ouvrage est tiré à 500 exemplaires numérotés à la main par l'auteur.
Le livre est en vente à la Galerie L'ile aux images et dans différentes librairies parisiennes.
Il peut également être commandé en envoyant un email à info (at) lileauximages.com
30 euros, 140 pages, Editions L'Ile aux Images, Paris, ISBN 9782746665224
_English :
The photographs presented in this book were taken from a balcony located in the heart of the Marais quarter, offering an exceptional perspective.
 From a single panoramic view, you can see the Pantheon, the Notre Dame de Paris Cathedral, the Saint-Gervais Church, the Hôtel de Ville, the Eiffel Tower, the Saint-Jaques Tower, the Georges Pompidou Centre, the Sacré-Coeur Basilica, the "Spirit of Liberty" statue at the Bastille, the Jussieu Tower, the Montparnasse Tower.
These snapshots have not been retouched in any way. They show an invisible, inaccessible Paris hidden in the heights of the city.
The book is sold in the Galery L'ile aux images or in various parisian bookshops
He can be also ordered by email : info (at) lileauximages.com
30 euros, 140 pages, Editions L'Ile aux Images, Paris, ISBN 9782746665224